ABOUT THIS FOUNDATION
WHAT IS POSSIBLE WITH SUSTAINABLE PROJECTS
The TONG-BAI FOUNDATION rents elephants to relieve their owners of
the financial pressure, so that
they do not have to work exceeding their health and age.
The TONG-BAI FOUNDATION works closely with the elephant project
ELEPHANT SPECIAL TOURS
.
Our elephants either live in the foundation camp or kept in the herd of
ELEPHANT SPECIAL TOURS
, without any commercial interest.
Our elephants do not necessarily earn their living but can be used according to their abilities and inclinations.
A trained work elephant needs menatl and physical activity. Therefor we believe a healthy mix of daily activity and extended periods of rest is most likely to benefit the animals.
Young elephants can enjoy their childhood to the fullest with us, to develop physically and mentally.
Appropriate to their age, they are playfully introduced to everyday working life.
The TONG-BAI FOUNDATION is financed by your donations only.
All money raised by the TONG-BAI FOUNDATION is used exclusively for the elephants and their maintenance.
The support we receive through working closely with
ELEPHANT SPECIAL TOURS
allows us to effectively realize the Foundation's goal of leading the elephants into a safe and healthy future.
Please help us to ensure that domesticated elephants can live a decent life in their ancestral habitat forest – surrounded by mountains, rivers and rice fields.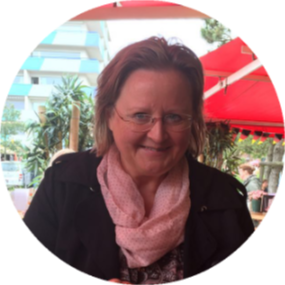 BIRGIT SIEBERLING
1st Chairwoman of Tong Bai e.V. Germany
She was a long-time guest of Elephant Special Tours and main investor in the guest-funded purchase of elephant bull Tong Bai.

His tragic loss caused her change of frontiers from the mere elephant lover to active backstage work for the protection and well-being of the gentle giants. She is the director of the Tong Bai Foundation in Thailand and the 1st chairwoman of Tong-Bai e.V. in Germany. Several times a year she travels to Mae Sapok for a couple of weeks to look after the foundation camp and take care of administrative tasks on site. She is the contact person for our godfathers and donors and organizes activities concerning the association, e.g. meetings of elephant friends and lectures by Bodo Jens Förster.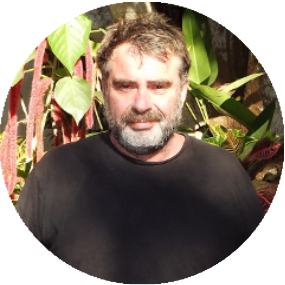 BODO JENS FÖRSTER
Organizational Management Tong Bai Foundation Thailand
Bodo Förster is the head of the Tong Bai Foundation in Thailand. He worked as an elephant keeper in many zoos and wildlife parks in Germany and Europe before founding the Thai travel company Elephant Special Tours in 1994. Through years of training in Europe and Asia, he qualified as an elephant trainer. The protection and conservation of the Asian elephants is close to his heart. With his team, Bodo Förster makes a personal contribution at his camps in Mae Sapok every day, which is located on the edge of the Doi Inthanon National Park in northern Thailand. He acts as a mediator not only between humans and animals but also different cultures and religions. In 2016, he was awarded the Lotus award by the Thailand Tourism Authority by Her Royal Highness Princess Ubol Ratana.
OUR OWN VET(ERINARIAN) POINT
AN ON-GOING CHALLANGE
guaranteed stress-free on-site medical treatment
The current joint project of ELEPHANT SPECIAL TOURS and the Tong Bai Foundation is the construction of a hospital ward, which is not only available to our own elephants but to all approximately 300 elephants in the valley. In case of injuries and illnesses, a veterinarian from the state hospital can treat the elephants in a suitable environment here on site. This saves effort and time by not having to transport the injured elephants in an 3-hour-drive to the hospital in Lampang by lorry. The Tong Bai Foundation continues to rely on donations to make this project a reality.
As our elephants spend a lot of time each day and night in the camp surrounded by a species-rich forest and grassland, they are able to eat as natural as possible. They can add to their diet every herbs, grass, bark and roots they want to.
Due to the immense amount of feed of 150 to 200 kg, which requires a full-grown elephant a day, elephant grass, corn and hay must also be fed.
The permanent provision of hay is a great feature and we are proud to be the only privately managed elephant camp to offer our animals this raw food which is rich in fiber and protein.
The production of hey has a long history in Europe but is completely atypical in Thailand. The long rainy season and high humidity make hay production very difficult. The hay harvest, which is so healthy and herb-scented for elephants, can only be harvested in December and February, and the widespread application of pesticides must be avoided altogether, making annual productivity comparatively low and hay accordingly cost-intensive with 7 BHT per kilogramm. Only in a few places in the country this high-quality feed is produced. One of these places is the village of Ta Goa Muang in the district of Lampun, about 80km from Mae Sapok. Here, a group of 20 small farmers collectively cultivates an area of ​​about 48 hectares (300 Rai). The costs for a healthy mix of different food amount to 50 EUR each elephant a month.