Living in a herd with all age groups is the best requirement for a species-appropriate elephant holding.

Since our focus lies on "early retirees" and "yungsters" we cover the young and elderly elephants. However, we also want to help with the preservation of elephants and welcome calfs into this world, we also integrate middle-aged elephants into our herd. Not only do we have our own elephants but also "suitable" animals from owners. We would like to introduce you to our gentle giants personally.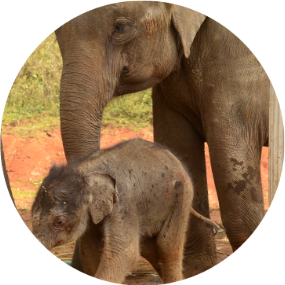 YAYA
Since August 2014 Yaya belongs to our herd. She looks very similar to Salia, whom became friends easily, als well as with Mae Boonsin. On December 30, 2017, she gave birth to her first calf. His name is Phu Sinan. (In this picture the babybull is one week old.)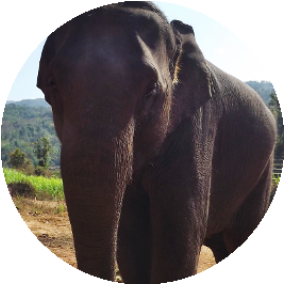 MAE BOONSIN
Before she came to our camp, Mae Boonsin spent most of her lifetime alone in the forest. Now she has found new friends and enjoys living together with other elephants in a herd. She is free to develop and to build up her musculature, which was quite weak when she first came to us.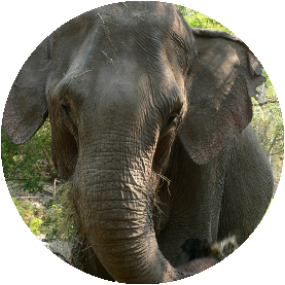 MAE GEO
The first elephant cow, which we have adopted to our foundation, is called Mae Geo and was born around 1958. She lived in very difficult conditions for many years and was used as a timber elephant for a long time.

During that time she barely had any contact with other elephants and did not know running water.

In very bad shape she came to the camp of Elephant Special Tours in March 2006 and has developed in these years to a meek and very patient elephant cow.

Due to her age, Mae Geo no longer has to work every day and is with the Tong-Bai Foundation as the alpha cow, to help out bringing up our calfs.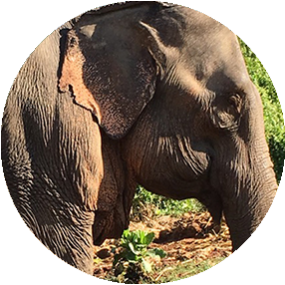 MAE MOWA
Mae Mowa was born in 1981 and spent most of her life deep in the forest near the burmese border.

Thanks to generous donations from Abigail Attisso and Claude Hambeck, we were able to acquire her for our foundation. She has a very balanced, calm nature and with her we now have a
middle aged
elephant cow in our herd. For her as well as for the other elephants, food sponsorship can be taken over, which ensure a balanced and natural diet.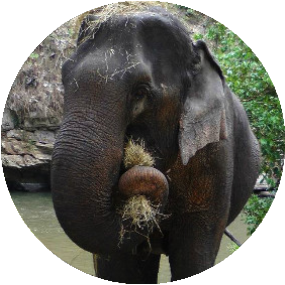 MAE BOONTONG
Our old lady Mae Boontong was born around 1958 and has a very balanced nature.

She is very popular with our elephants and guests.

She is originally from Burma, where she was employed as an elephant working in the logging industry.

With us she does not have to work that hard and is granted an early retirement. She is busy with helping out with the young calfes and supporting the mothers. However, from time to time she is allowed to show her skills, as these
still run in her blood.